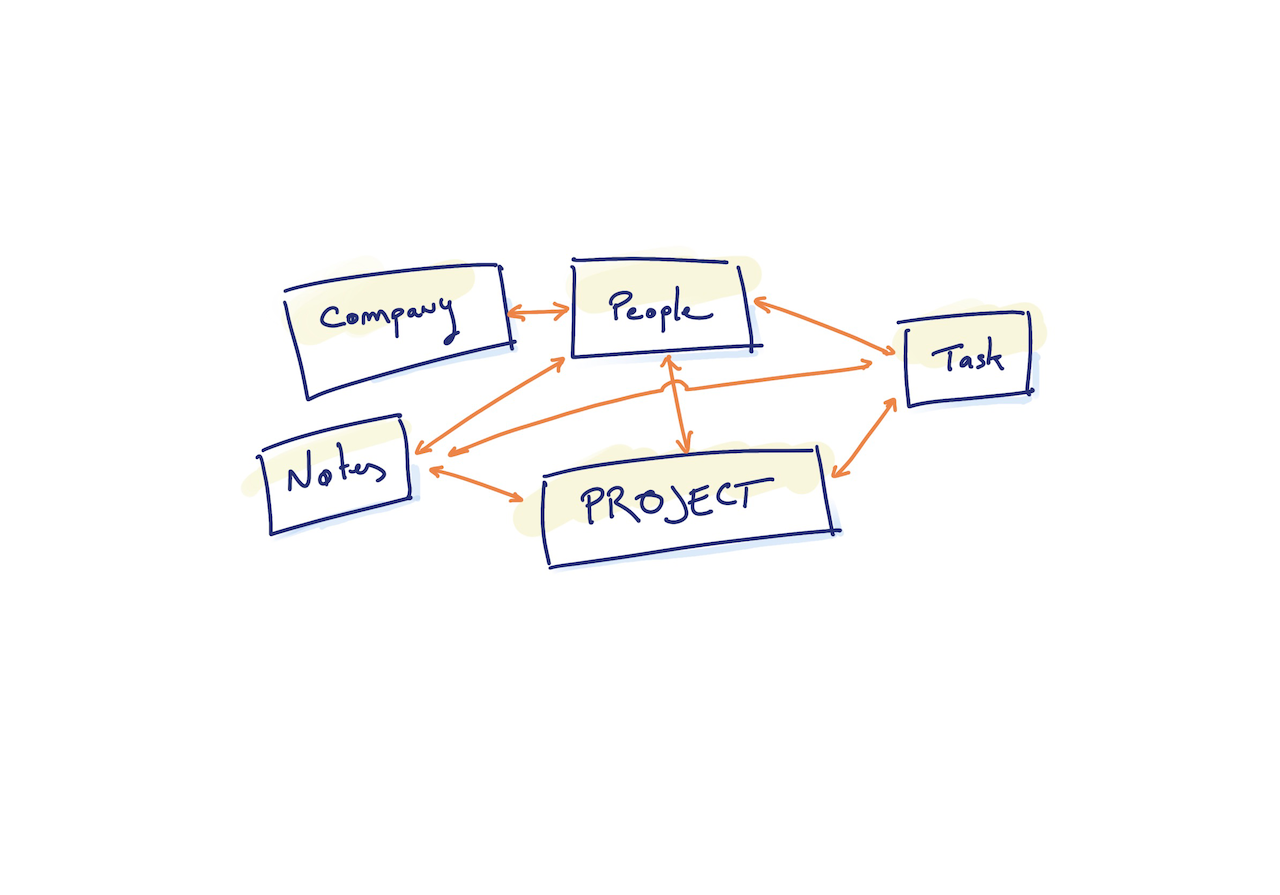 Tana is a tool I love to play with, but I always use it to test features, going forward click after click with no real purpose. All my work files and processes are still managed in Obsidian.
So to dive into Tana and find how it handles everyday life in real conditions, I decided to manage a project in it. A real project, real situations, real use case.
My goal is to create a simple system to track my projects, notes, and task-related. I don't need to track more complex things like workload, time spent or budget.
I'll explain to you here the setup I created with supertags, and how it worked on a daily basis.
First things first, what is Tana ?
Tana is an online note-taking application equipped with a range of features that promote organization and productivity, making it a great option for a Personal Knowledge management and/or note-taking app.
Mainly, it's designed to help you create and centralize your content, as they promote: The Everything OS. The platform offers a suite of tools for managing notes, tasks, and projects.
Main structure
When it came to setting up project management in Tana, I wanted to keep things simple and only include what I absolutely needed. That's why I turned to the KISS acronym – Keep It Stupid Simple! For my purposes, I needed to be able to refer to projects, people/companies, tasks, and project notes. Fortunately, Tana has a great feature called Supertags that makes it easy to tag and categorize content while also defining data models to add attributes.
Setting up the supertags
Tana provides several attributes to create a data model that helps you create the right structure. 3 of them a particularly interesting: text, dates and references.
The text attribute allows you to write some text as it indicates.
The Reference attribute can constrain to reference an existing supertags. This can help to create relations.
To define a data model for a Supertags, I needed first to tag something, so I started with the companies.
Company Supertags
The Company supertags doesn't need to have any data, as I want to set details on the persons.
I can set a specific color if I want, but nothing more to do here.
Poeple
The people Supertags requires some data as I would like to store the person's position, email address, direct phone number, and for which company this contact works.
Here I used a Reference field to select a company.
Projects
For projects, I set my required data model, this is specific to my needs and is not interesting for the use case.
I created several reference fields to select people involved in the project and their roles.
Also, I set a date field to signify the due date of the project.
Task
A task is a Supertags with the option « show as checkbox » checked.
Here I created a due date, a reference to a project and a reference to a person in charge of the task.
Notes
A note is content attached to a project that helps me to remember things and to store information around the project.
Meetings
Meetings are like notes but I also added a reference to set people present in the discussion and a text field to summarize the output and note the key points.
System set
The system is now set and is ready to take off.
It's very basic and simple, but I want something seamless and not spending my time filling too complex data fields.
Now let's configure the queries to display the content.
Setting up live queries
For those familiar with Obsidian and Dataview, or with Notion's views, it will be apparent how Tana's live queries feature operates. The live queries feature allows users to filter content and display it in a list, table, or card format. This allows for efficient organization and quick access to important information.

The configuration process for live queries is conducted through dropdown menus, which is an intuitive and streamlined approach. I utilized this feature to create lists that allowed for swift access to content, such as a project list, notes, and meetings grouped by project and ordered by date, and tasks grouped by project and ordered by the due date. This allowed me to quickly and easily access the content I needed to manage my project effectively.
Working with the system
I found Tana to be a reliable tool for managing my project, and its simplicity and user-friendly interface allowed me to get started with minimal effort. One of the best features of Tana was its Supertags, which allowed me to create a data model to categorize my projects, tasks, and notes. This feature made it easy to create queries to filter and display content, and I found it to be an effective way to organize my work and keep track of what needed to be done.
Another aspect of Tana that I appreciated was its live queries feature, which enabled me to set up lists and tables that displayed the content I created. This feature made it easy to access the information I needed quickly and efficiently.
Pros
One of the most notable strengths of Tana is its powerful functionality. With its Supertags and live query features, Tana can manage complex projects and tasks with ease. The tool's keyboard shortcuts are also a significant time-saver, enabling users to navigate through the platform effortlessly.
Tana's user interface is also frictionless, and its slick design makes it easy to use and aesthetically pleasing. These factors contribute to an overall positive user experience, which can be essential for productivity and motivation.
Cons
One area where Tana falls short is its limited support for mobile devices. As more and more people rely on their smartphones and tablets to manage their work, this can be a significant drawback for Tana users who need to access the tool on the go.
Another downside of Tana is its limited data export options. While Tana's Supertags and live query features are great for managing content within the platform, users may face limitations when trying to export data to other tools or formats.
Finally, Tana is a proprietary tool, which means that users are locked into using the platform and may not be able to transfer their data easily to another platform. This lack of flexibility can be a concern for users who need to change tools for any reason.
Conclusion
In conclusion, Tana is a powerful and user-friendly tool for project management and personal knowledge management. The tool's Supertags feature and live queries functionality make it easy to organize and filter content, while the user interface is slick and easy to use. The tool's keyboard shortcuts also make it a time-saver for users who prefer to navigate through the platform quickly.
However, Tana does have some limitations, such as limited support for mobile devices and data export options. Users who need to access their project management tool on the go or want to export their data to another platform or format may face some challenges.
Overall, Tana is a great option for users who prioritize simplicity and efficiency in their project management tools. The tool's focus on organization and productivity, combined with its user-friendly interface, make it an excellent choice for managing projects, tasks, and notes.
For my personal use, I will keep my simple project and task management in Tana because it looks more straightforward to me. But I will keep my note-taking in obsidian to not rely on a proprietary platform for the information I need to keep on a long-term perspective.
Happy projects!